Sources of Room Decorating Ideas to Help You Get Started


When it comes to room decorating ideas, the saying "a picture is worth a thousand words" is absolutely true. It can be difficult to describe exactly what you want or explain a certain effect. It's far easier to whip out a picture and say "I was thinking of doing this in the kitchen". So in order to get the creativity flowing, here are some of the places that I have found good, inspiring pictures.


The easiest (but probably most frustrating) way is to do an image search for home decorating ideas. There is a wealth of good ideas online. You can try varying the search terms to get different results - for example, you could type in "kitchen interior design", or "modern kitchens" or "funky kitchens" or even "small kitchens". You could even keep a folder on your hard drive to store pictures you like. I think it's easier to make sub-folders for each room, since you will usually be decorating your rooms one at a time. It can be frustrating when you think you have found the perfect image, only to find that it is too small to see properly, or you can't find the image when you click on the link.


Another option - which in my experience becomes addictive and expensive - is interior design magazines. There are advantages to using magazines over image searches. I have found that each magazine has a certain look and feel to it and they only feature interiors that contribute to the image they are trying to project. If you regularly buy a particular design magazine, the chances are that most of the content appeals to you and you get a lot of relevant photos and room decorating ideas. The image quality is also much better in a magazine.


Do you like catalogs? Get your hands on an interior decorating catalog, or a furniture catalog (a lot of them are available online now). You don't need to order anything, just browse through the pictures. Since these stores want to sell you something they need to show you that their product will easily fit into your lifestyle. I find that this leads to good pictures where the room layout and decor is easier to relate to because it looks more like a "regular" home but with a hint of improvement. I discovered that my friend does this in his home. He was looking for furniture at the time and saw a stylish layout in a catalog; it looked good so he replicated it at home. I'm not suggesting that you need to replicate catalog photos, but that it is easier to visualise the end result in your home with this method. Another winner can be paint catalogs - they not only show you the popular color combinations but also simply-styled rooms that look really good.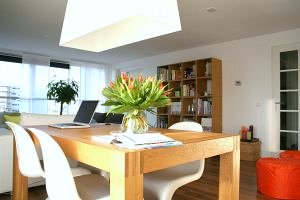 If browsing the furniture stores is your thing, then you have hit on another gold-mine for decorating ideas. Upmarket furniture shops customise floor displays to show off their furniture to the best advantage. A small area or corner may be painted or wall-papered to evoke the feeling of their collection and show you how it could look in your home - complete with décor accessories. Even though these stores are geared towards selling furniture, take note of how they group items together, how they position items, the scale - or size - of one piece of furniture relative to another or relative to an ornamental piece. You can learn a lot about what you like and don't like this way.


Whew, this part is always fun! So now you have a collection of room decorating ideas. This is where most people stop. They repeat the idea collection process over and over again always searching for that elusive idea or picture. Do you feel that way? Do you feel like something is missing in all those photos?


There is a good reason for feeling this way - those pictures are not of your home, and you still need to adapt them to suit your space. Here's

what I did with the pictures I collected

---

Return from Room Decorating Ideas to Home Decorating Ideas

Return from Room Decorating Ideas to Interior Decorating Together