Stylish French country decor - the embodiment of the French countryside and family life


There's something romantic about French country decor.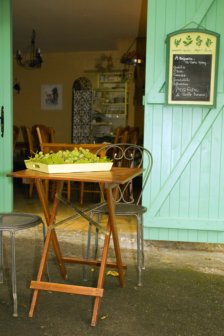 There is a certain elegance in the lines of the furniture enhanced by a cool, calm colour palette, that evoke warm lazy days at a French café.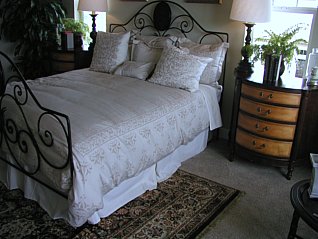 Similar in style to the Tuscan style of decor, the French country look has a friendly, comfortable feel that is inspired by the colours of the countryside.
You are free to incorporate a few hints of this style or go all-out and make your home into a Provencal masterpiece. You will know how closely you should follow this trend from your decorating pictures. You can see how strongly this decorating style shows up in your pictures, is it scattered here-and-there in a few photos, or is it in just about every picture?


Features you might want to include in a Provencal country style home:
Floors: Wood, stone or even brick. If your floors have aged well, then you have the perfect foundation.

Walls: Plaster. You could even consider a whitewash or limewash.

Furniture: Wooden furniture that is chunky or distressed. Alternatively, painted furniture is also popular.

Furnishings: Natural fabrics - think cotton, linen and wool. Toile is a patterned fabric that shows up strongly in French country decor.

Colours: Mostly sunny bright colours - yellows, blues, greens and also soft whites and creams.

Accessories: copper pots, wrought iron, wicker baskets, old vases.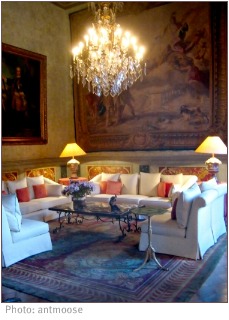 Here's a bit of an idea of how to go about transforming your room into the epitome of French country. I'll start with a standard bedroom - this typical room is probably a sight we've all been greeted with at some stage. Plain white walls, a light carpet and melamine cupboards make this room a boring blank slate.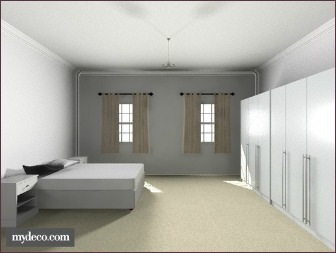 Well of course if you have the budget, you could just reproduce this style from your decorating pictures, but the point I'm trying to make here is that you can create this look with just a few changes.
This is how I gave this bedroom a French country feel:
• I chose a limited colour palette, and I opted to use a light colour scheme. My scheme consisted of beige, light blue, off-white, and light yellow.
• You need just one large French country decor piece. This dominant piece (the bed) will set the tone for the whole room.
• I used smaller pieces in the same style to re-enforce the theme. This is done through the style of the bedside tables as well as the accessories.
• If your room is similar to this, you could prime those melamine cupboards and do a faux finish on them if you wanted that something extra.
See how a few simple tweaks and accessories can transform that boring bedroom into a Provencal retreat.
French country decorating ensures a sunny casual feel to your home. If you like the country feel of this style but it doesn't seem quite right for you, try the Tuscan or Country styles.


---

Return from French Country Decor to Interior Design Styles

Return from French Country Decor to Interior Decorating Together