Contemporary Decorating for an Easy, Modern Look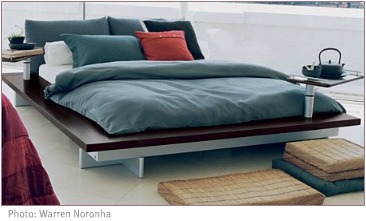 This popular and modern look is easy to achieve. Contemporary decorating has an uncluttered feel that is stylish and up-to-the-minute. If you can't stand clutter and unnecessary knick-knacks, and you like furniture with clean lines and minimal fuss, then this minimalist style of decorating may be just what you need. The key is not to over-do things - you can inject a lot of personality here, but keep the colour palette simple. Calming neutral colours work best in this scheme because they can be combined easily with each other. The great thing about this style is that when you find you'd like to change accessories like cushions, rugs and artworks you can simply swap the old for the new without changing the basic colours in the room - the neutrals work with everything. Most homes in this style tend to be open-plan, so remember that each room's decor needs to flow into the next.


You would need some of these elements for your contemporary style room:

Floors: Simple flooring in a single colour throughout the home. Popular choices are laminate floors, tiles and fitted carpeting in an unpatterned, neutral shade

Walls: Smooth walls in neutral colours. An exception may be a feature wall, which could be a different shade - possibly a bright colour; or even finished in a natural stone cladding for some texture


Furniture: Simple wooden furniture with modern, clean lines, featuring chrome or glass finishes; leather or upholstered furniture in neutral colours

Colours: Neutral and calm colours, such as beige, taupe, grey, white and cream as a backdrop. Choose one or two brighter colours as accents in the room found on walls or fabrics

Accessories: A minimum of accessories. Accessories are usually co-ordinated and may be one of the feature colours. If you are using artwork, it should be bold and modern. Light fittings and fixtures are also modern. Storage is normally cleverly concealed. Plants used as accessories are simple, with few showy flowers, and usually just one or two large leaves.


The aim of this style is a calm and relaxed feel in a modern setting. Every piece is chosen with care to co-ordinate well with each other. The result is harmonious and peaceful.

Here is my demonstration on how to transform an ordinary living room into a contemporary one. From this you will see just how easy a contemporary style can be. The following picture is just my representation of a standard living room.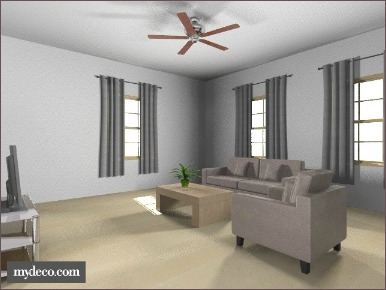 As you can see, the style is almost contemporary - all this room needs is a little cohesion and reinforcing of the style. I've kept the grey curtains and oatmeal sofa and armchair, but I just amped up the grey a little. What I did was to incorporate a feature wall in a simple grey-toned wallpaper with a little motif. Then I added a modern eye-catching mirror. The existing coffee table was swapped for a modern glass and chrome one. I used darker mahogany wood accents for the bookcase and black for the side table. Just a few choice accessories and a grey area rug and you're done - simple as that!
Check out the new improved contemporary decorating in this living space.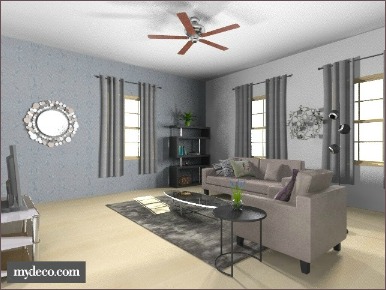 ---

Return from Contemporary Decorating to Interior Design Styles

Return from Contemporary Decorating to Interior Decorating Together