Decorating for Kids
Make Your Home Gorgeous and Safe for Young Children Too


Decorating for kids can be challenging. Besides your home's looks, you need to consider how well your furniture can stand up to knocks, scratches, stains and climbing on. It can be tempting to give up your decorating plans altogether until your children are older. I've got some tips you can follow to decorate your home now so that you can get a head start, then later, all that is required are a few simple tweaks to make things more stylish. So without further ado:


Decorating for Kids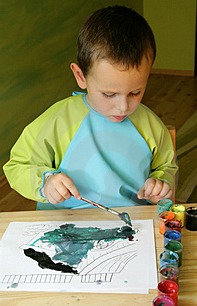 Let's think of what children would want out of a room makeover. The number one important aspect for children is entertainment. Kids want:

• An area to play with toys (or far more interesting - ornaments!).
• To watch their favourite DVDs and TV programs.
• To have a surface (besides the walls) to do drawings, paint or do other creative activities.
• To have enough space to run around in, with things to hide behind or jump on when playing hide-and-seek or games of tag.

Since children don't care too much about how much your sofa costs or how much you love that artwork on the wall, you need to be flexible and adapt your decorating ideas to work around them.


Here are some ideas you can try that will keep you sane and happy when decorating for kids:


Have hidden or stylish storage for your kid's toys and an area where they can play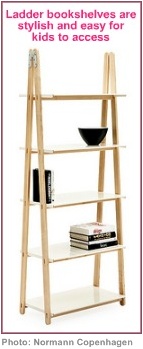 • Try an ottoman that has hidden storage - the top works like a lid that can be lifted off.
• You could also try woven storage baskets or drawers that are low enough for kids to access.
• If your decor dreams are more open-plan and casual, then you could use ladder-like storage shelves with brightly painted buckets for each child's things.
• Most of the time, all the toys will end up dumped onto the floor. If you don't have carpets, consider getting an area rug that they can sit on while playing. Choose something with a low-cut soft pile so that small toys don't get lost, and toys with wheels can be manoeuvred over. A medium tone or dark coloured carpet will help to hide any marks. Also make sure your rug can be washed easily - nowadays there are lots of stain-proof carpeting yarns and weaves that are both easy to clean and also hide dirt in between cleaning. Some natural fibre rugs such as jute may be unsuitable because they are difficult to clean. Make sure the rug is not harsh or irritating to the skin.

Little boys definitely believe that your furniture makes the best ramps for their toy cars, and kids love to jump and climb on furniture - this influences what type of furniture you choose when decorating for kids.

Furniture to limit or avoid

• For safety, avoid glass tables.
• Limit the amount of high gloss surfaces because they will require constant cleaning as kids will leave hand marks and spills.
• A sofa with exposed wooden arms and backrest can lead to nasty bumps and bruises while playing.
• If you choose sofas with springs, or a spring mattress, it will encourage children to jump on them. Besides damaging the furniture they often bounce right off and hurt themselves.
• Display cabinets with low-height glass doors, or doors with glass panes are also not safe for young kids.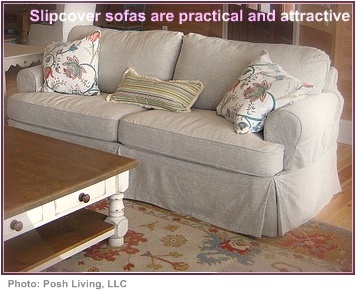 Better furniture choices

• Sturdy chairs that won't topple or overbalance.
• Sofas with lots of cushions.
• Buy slipcovers in an easily washable material. There are specially designed sofas available that come with their own slip cover. They look casual and inviting and not at all "covered". If you buy a separate slip cover for an existing sofa, then you may want to put mattress protectors under the slip cover as well for extra stain protection.
• Microsuede and leather furniture is easier to keep clean.
• Consider getting a plastic chair and table set designed for kids, they can use it for playing, drawing, and eating at too.
• Sofas with lower backrests, especially contemporary-styled sofas work well because kids try to climb on backrests and can slip and fall backwards when trying to get on top of higher backrests.
• Use out of the way side tables instead of a central coffee table to give kids more room.


Other things to consider when decorating for kids


• If you have curtains, make sure that the poles are securely attached and that the curtains are in a washable fabric. Kids love to hide behind the curtains, so they may get pulled around a bit.
• A lot of decorators advise not placing furniture directly up against the wall. If you like that style, be careful of the amount of space you leave between your furniture and the wall - a small gap will be irresistible for most kids to try and squeeze through making the furniture and the walls tatty and dirty sooner.
• Choose paint that is washable. Latex paints and paints with higher sheen are easier to clean. Stain-blocking primers are also available. Wallpaper is not a good option at this stage.
• Put anything breakable or valuable higher up. Don't hang shelves or artworks behind sofas if the sofa is against the wall.
• Children like bright colours and don't see anything wrong with suggesting that the walls are painted bright pink or red. In family rooms let them get involved by allowing them to choose cushions in colours they like to add some young flair to the decor. Use bright accent colours that appeal to kids.


The key when decorating for kids is to create a functional room that is fun for them to play in but is not a nightmare for you to keep clean. By combining your wants and needs with that of your kids you can achieve this very nicely.


---

Return from Decorating for Kids to Room Design

Return from Decorating for Kids to Interior Decorating Together