Romantic Home Decorating


To me, romantic home decorating is all about the finishing touches. I want to feel wistful and dreamy when I look around my home, I want that soft-around-the-edges feel. I'll share what makes a room feel romantic to me, and show you what features in a room I would work with to bring about that dreamy feeling. Remember that decorating to create a mood is very personal - maybe nothing you see here feels romantic to you, and that's fine. If you can look at a picture and say "that is such a sensuous room", then try to identify what it is about that decor, or furniture that makes it feel that way to you. I personally favour this mood for a bedroom, but there is nothing wrong with effecting this in other rooms of the home.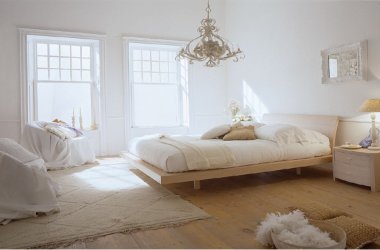 A romantic home can be decorated to include elements of the whimsical, or you can spice things up if you are looking for a more flirtatious feel. The first thing I would start with is colour. I would decide what colours to use based on how they make me feel. I'm looking for a colour that makes me feel amorous, or maybe I'll go for a hue that makes me feel sexy. If you find it difficult to imagine colours and note your emotional response to them, then you could try viewing a larger expanse of a particular colour and see how it makes you feel - try using paint swatches or even colourful towels.


When I did this exercise, my colours were soft grey, light golds, burgundy, creams, and maybe a dash of pale blue or dusky pink.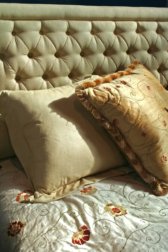 The next step for me is to decide on textures and furniture. I think that layering textured fabrics add depth, and helps to achieve an interesting and sensual detail. I would use fabrics that look intricate, delicate and beautiful (like lace), and fabrics that feel soft and inviting (like satin). In my opinion, using lots of fabrics accentuates the fairy-tale feel, and extra details such as embroidery, ruffles and pretty edging are essential. Embellished fabric or wallpaper is perfect for creating a dramatic and luxurious effect, my personal favourite being damask - a pattern that echoes feminine curves and swirls.


To set up this look in a bedroom I would choose either a white ornate wrought iron bed, or a large fabric headboard (those lovely plush ones with the deep buttons). I also think that wooden, or laminate, floors that look slightly weathered lend to that cosy hideaway feel. I like painted and distressed furniture for this theme, echoing the French country style of decor. When it comes to wooden furniture, I feel that it is better to use the paler shades of wood for a romantic home theme.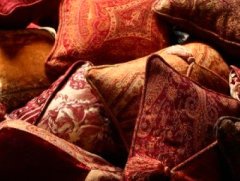 In this case, the accessories I would choose to compliment the romantic home decorating mood would include: textured cushions in dark jewel burgundy with gold embroidered details; a chandelier to add a grown-up sophisticated touch to the scene. A long pile rug in a soft grey with a hint of shimmer for a soft caress underfoot, and billowing voile curtains to complete the affair.


The artworks you choose can also pull your whole theme together. I have a large artwork for my romantic bedroom, it is an acrylic painting of two wooden boats in the shallows of a beach; it gives a magical sense of isolation and wonder, and I think that's partly due to the colours that were used. The painting picks up on my sensual subdued greys, dusky pinks and creamy off-whites. I find that the larger paintings can really add to the mood of a room.


And now for a demonstration. The following picture is of a standard bedroom that I intend to convert into a romantic home decorating masterpiece.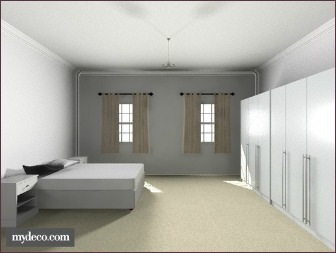 Since the carpet had to stay, I decided on a soft taupe colour for all the walls. The curtains were updated to something more full and lush. I decided on accent colours of pink and red which I used in the many cushions on the bed. A pretty rug that contained my chosen accent colours pulls the whole theme together. I used pinks for the lampshades, the chair and the chandelier. I also kept the feel light and airy with a large mirror. The bedside tables were replaced with silver embossed tables. Here is the "after":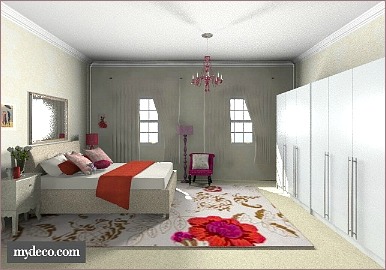 ---

Return from Romantic Home Decorating to Interior Design Ideas

Return from Romantic Home Decorating to Interior Decorating Together