Decorating for the Disabled
Bathrooms: Design and Advice


One of the most challenging rooms of the home for the disabled: bathrooms.

Remodelling a bathroom for a person who is wheelchair bound or using a walking frame doesn't have to be a nightmare. Here are some tips to make things easier when designing your home's disabled bathrooms.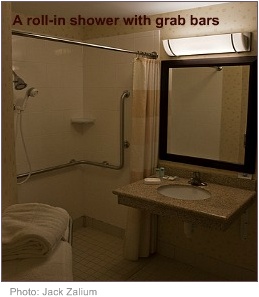 1. Widen doorways so that a wheelchair can fit through it easily - about 90cm (around 36 in.) wide should be adequate. If this isn't an option for you, then you may want to use swing away offset door hinges so that the door can be opened wider than 90 degrees.

2. Relocate light switches so that they can be reached easily from a seated position.

3. Consider installing a walk-in bath for easy access for those using walkers and with limited mobility in disabled bathrooms. Install handicapped grab bars around the side and the end (opposite the drain hole) for added safety and accessibility. A walk in bath looks similar to a standard bath, except it opens on the side with a little door which results in a small step to enter the bath instead of trying to climb over the full-height side. Some come with a slip resistant built in seat. Once the door is closed it is water-tight and one can bathe as usual. There are also combination bath and shower models available.

4. For those in a wheelchair, a roll-in shower works better. Make sure there is no step to enter the shower, and that the doors open out fully to allow easy wheelchair access - alternatively, use a shower curtain. In cases where a family member requires assistance with showering half-height shower doors can be used instead. Install handicapped grab bars in the shower as well as a slip-resistant chair. Ensure that soaps and shampoos are in easy reach for the seated person. Consider using liquid soap and wall-mounted soap and shampoo dispensers so that the disabled person doesn't have to contend with bottles and soap slipping out of their hands and beyond reach. An adjustable mounted and hand held shower will make showering easier. Use lever-type mixer taps since they are easier to operate.


5. Instead of a pedestal mounted basin, a basin mounted into a counter is easier for disabled people to use. If wheelchair access is needed, then don't install cabinetry under the sink to allow the person to move their wheelchair close to the basin. A slightly lower counter is easier to use from a seated position. Change your taps to single-lever types, with a long lever if necessary.

6. Replace your existing toilet with an elevated one - often standard toilet heights are too low for the disabled person to use comfortably. Install grab bars behind the toilet and on at least one side wall. Where the toilet is open on both sides you could use an L-shaped grab bar next to the toilet that would be fixed to the back wall (next to the toilet cistern) and fixed to the floor. Another option is a hinged drop-down hand rail.

7. Ensure that your bathroom flooring does not become slippery when wet. Use non-slip mats in the bath and fabric bath mats where necessary

8. Standard wall mounted mirrors can be difficult for a seated person to use. A good alternative in a disabled bathroom is a wall mounted angled mirror, or a pull-out pivoting mirror mounted at a lower height.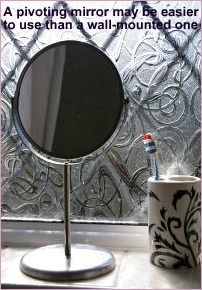 A word on handicapped grab bars:
Grab bars are essential in the disabled bathroom. Make sure that the grab bars are of good quality, and does not rotate at the hinges. The bar should be smooth and easy to grasp and hold. Standard grab bars are around 3 - 4cm in diameter (1.25 - 1.5in.). A grab bar should be able to take 250 pounds of pressure.


Installing handicapped grab bars:
Make sure your grab bars are professionally installed. Although it seems like a simple task of attaching a bar to the wall the wall actually needs to be reinforced to take the pushing and pulling pressure exerted on the bar.

Grab bars are mounted anywhere between 85cm to a metre (34 to 38in.) from the ground and need to have around 2cm (1 in.) space from the wall. Handicapped grab bars are sometimes installed at an angle but this puts more strain on the wrists of those using the bars, so they are best mounted horizontally if possible.


By making adjustments where you can in your handicapped bathrooms you will enhance the quality of life for your disabled family member.


Here is some more information about creating a wheelchair accessible kitchen.


---

Return from Disabled Bathrooms to Interior Design Tips for Disabilites

Return from Disabled Bathrooms to Interior Decorating Together