Decorating for House Pets


You love your house pets and you love your home, but sometimes it seems the two don't seem compatible. I know it can be challenging to decorate when house pets are involved, and it does need a little compromising. You may find you need to substitute what you want with what is suitable and pet-friendly.


On the practical side, you could train your pets to only use a certain area of the home that is easy to clean and maintain. That was the route I chose with my five dogs. They are allowed in the kitchen and laundry and they know not to go into the rest of the house. So even though there are masses of hair to vacuum up in the kitchen, the rest of my home stays relatively clean and I can choose the furnishings I want without worrying about them getting ruined.


What if your house pets have free reign? This is where it gets a little trickier. Here are the challenges that we face with pets in the home: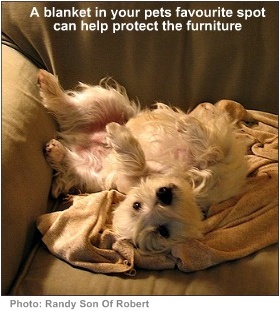 • If your pet lives both indoors and outdoors (especially dogs) you will get sand and mud tracked into your home. My dogs also like to bring outdoor "toys" (like rocks) in with them.

• Pet hair can be a real nightmare to clean up and some animal breeds shed more often than others.

• Sometimes your pet will need something to scratch, and that something is usually your doors, curtains or sofa.

• The occasional pet stain - smelly and difficult to clean.

• Pets on sofas and beds if you allow that.


Now let's think a bit about how we can get around this.


Flooring:


• Choose tiles! They are easy to clean no matter what the mess and aren't damaged easily. A more textured tile is easier for dogs to walk on. If you really yearn for wooden flooring there are tiles available with a wood grain finish.

• If you have hardwood floors: most hardwood floors will dent and scratch from pets either scratching the floor or when walking on it or playing. The other problem is that pet urine soaks into the wood and leaves a dark stain that is difficult to clean. Peroxide can help to lighten pet stains, but the floor will still need to be refinished. Keeping these floors in good condition with pets in the home is difficult because any waxes or sealants that are applied to reduce scratching will eventually need to be stripped and replaced - expensive and labour intensive. For harmony between hardwood floors and house pets you can embrace a distressed wood look so that the scratches just blend in. Otherwise you can use rugs over high traffic areas. You could also try Softpaws, which are adhesive vinyl caps for your pet's nails that result in a blunt and soft tip. Alternatively keeping your pet's nails trimmed can help a little.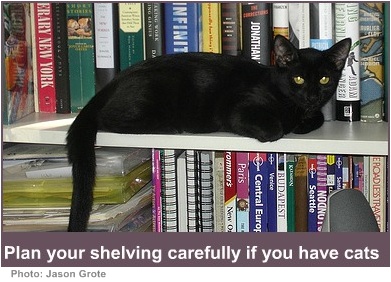 • Laminate floors can work but quality is the key. A cheap laminate will scratch and dull easily. If a laminate floor is lightly scratched it can be "repaired" with a kit or with colour coded pencils. The advantage with laminate flooring is that individual boards can be replaced. The disadvantage is that laminates are not waterproof so pet stains will ruin the floor.

• If your home is carpeted then you'll know that carpets and house pets don't go together well. Adapt the look of your home by placing rugs over the carpet. Choose rugs that are easy to wash or clean so that your carpet stays in relatively good condition. If your pet does soil the carpet then enzymatic cleaners are recommended because they break down the urine and eliminate the scent. Remember that absorbent puppy training pads are available if your pet is not yet house trained. If you have cats and they like scratching your carpet then cover that area with a highly tactile rug (like sisal) that your cat can scratch instead.

• Luxury vinyl flooring is said to be scratch resistant, but of course, you need to buy a high-end product for the full benefit. Vinyl is water resistant though, and comes in a wide array of finishes that mimic hardwood, natural stone and tiles. You will need to put soft pads under heavy furniture to avoid denting.

• Concrete can be finished and stained nicely and pet scratches don't show up. It won't stain either if it has been properly sealed.


Furniture and walls:

• Do your cats scratch the furniture? Cats usually want to scratch something textured that has a "catch" to it, so if you are choosing new furniture avoid woven fabrics that has loops in it and instead try more open-pile ones like microfiber, velvet or leather. These fabrics are also easier to clean. Choose throws or sofa slipcovers in these fabrics if you are not able to replace your furniture at this time.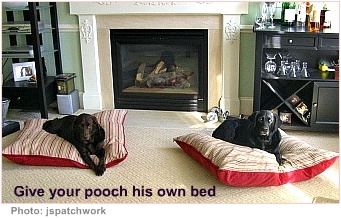 • Place a tall scratching post in the same position as the furniture spot your cat likes to scratch.

• Some success can be had by putting clear tape or double sided tape on the furniture areas that your cat scratches. It doesn't look very nice, but it can be helpful if you are weaning your cat off the furniture and onto a scratching post.

• Keep your cat's nails trimmed regularly.

• Try adding a throw or blanket to the sofa in the spot your house pet likes to sleep on to protect it.

• Plan any shelving carefully if your cat likes to walk or nap on them.

• Wallpaper may not be an ideal option as cats may scratch it and dogs may dirty it by brushing against it.

• To protect wooden doors from scratching try metal kick plates, Plexiglas sheeting, or choose a painted door that you can refinish when necessary.



As for cleaning, once you've vacuumed up all that pet hair, a rubber bristled broom or brush makes getting the rest of that hair up a little easier.


Keep your pet entertained indoors with toys and consider a designer pet bed that will blend in with your decor and give your little prince or princess their own kingdom.


---

Return from Decorating for House Pets to Room Design

Return from Decorating for House Pets to Interior Decorating Together