Create a warm rustic atmosphere with country decor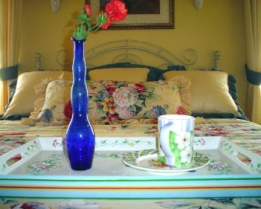 Would you like a look that is simplicity itself to carry out? Country decorating is an easy and natural trend where the focus is on creating a comfortable living area. Country decor items can be home-made crafts or stylish buys, so there is something for everyone. There are a lot of overlaps with the Tuscan, French and Cottage styles, which are also country styles for different regions. If this style is for you, then you'll find that this style is flexible enough for you to put your individual stamp on it.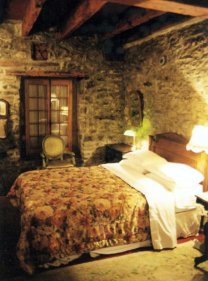 Country style features for the home:
Floors: Wood, stone or even brick - for that farmhouse feel

Walls: Wood, stone, plaster or painted. You could go for a wood cabin look or a more simple style with paint

Furniture: Wooden or wicker furniture, upholstered sofas

Furnishings: Natural fabrics like cotton. Patterns and bright colours feature strongly - checker-board, patchwork, stripes, florals

Colours: A mixture of both muted colours such as white and cream, and strong colours like red, yellow, green and blue

Accessories: flowers, hand-made crafts, bottles of preserves in the kitchen, table clothes, old dolls and teddy bears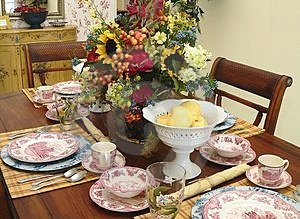 If you've got some crocheted items from gran, or if you love potted herbs on the windowsill, this lovely relaxed style will allow you to make good use of those items. Since this is also a style with some history, it can be inexpensively replicated in your home with comfortable aged furniture and other items you could find in second-hand stores and flea-markets.


I'm going to show you my take on this relaxed decorating style. Here is my rendered standard dining room as the "before"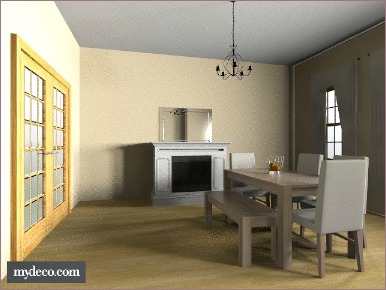 And now for the redecorated country style "after".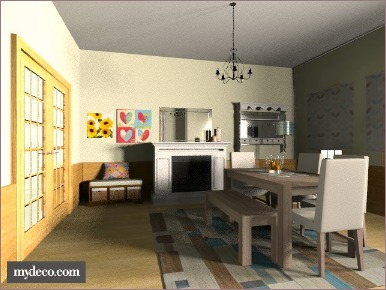 In order to give the existing dining room a country feel, I used wooden panelling to give it an informal feel. The walls were painted a pale green. I added a patterned rug in a simple and modern pattern and echoed that in the matching blinds. You could use colourful checks here instead if you like. I also included a mirror-backed display shelf and some arty prints. Finally a storage bench with woven baskets gives a homely touch.
---

Return from Country Decor to Interior Design Styles

Return from Country Decor to Interior Decorating Together