How to Decorate a Room - Define Your Needs


Whenever I think about how to decorate a room, I know that the best thing for me to do is make a list of essentials. I tend to approach most things by making a list. This list will be all that you love in your collection of decorating pictures - be it a certain combination of colours that always works for you, a certain style that seems to appeal to you, certain types of furnishings and accessories, or some integral feature of a room - big windows, exposed brick etc. Additionally, if you have an existing furniture piece or decorative object, that you just adore - put it on the list as well. I find that this exercise keeps me focussed on what I want to achieve in the room, it stops me forgetting about something important and also makes sure that I am not distracted from what I want to achieve (there are so many beautiful and distracting pictures out there!). Take some time to flesh out your wish list.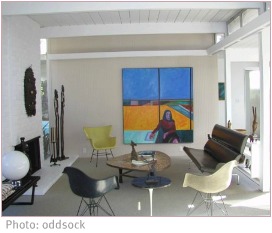 I'm going to describe the process I follow for generating my list, and I hope you find it helpful. Armed with my collection of interior design pictures, I sort them into kitchen, bathroom, bedroom, living room etc. Then I go and sit in the room I plan to decorate, I do this because sometimes my imagination distorts the dimensions of the room and I'll end up planning some furniture arrangement that would never fit into the room. Actually being in the room helps you to mentally "try it on" keeping your room's purpose and size in perspective. This is where I will try to be objective about my pictures and I'll eventually divide the pictures into two groups. The first group will be interiors that I really like, but I can't see the depicted style working in my room. Sometimes I just really love how the photo has been composed but it's not something I'd do in my home - sound familiar? The remaining pictures go into the second group, and if you try this yourself, you will most likely see that you have a bunch of decorating pictures in this group that are really similar. This second group highlights features that will become essentials (like my brown-toned walls), or they will be of a specific element that you want to incorporate (maybe you MUST have a chandelier). Once you've identified your must-haves, you'll be more aware of how they constantly attract you in any design picture. Your concept of what you like will keep on being reinforced with subsequent new decorating pictures.



Have a look at how I analysed some pictures of different rooms. If you find that magazine pictures are just too perfect and you're feeling depressed about getting anything to work in your home, this

may help you keep things in perspective.


When you've gone through a few pictures, you should have your basic outline of what your room needs to look like.


This list is an example of my kitchen needs.

1. Paint pine ceiling white
2. Olive greenish greyish cupboards
3. Would love wooden floors, but since I have dogs I'll change that to taupe-brown tiles that will work in the whole house (more practical anyway, right?)
4. Light coloured engineered stone countertops
5. Under-counter sinks
6. Wooden blinds in a walnut shade
7. Tiled backsplash that co-ordinates with the countertops
8. Chocolate milkshake brown walls


I'll also include a diagram of how I want work areas to be set up, if I plan on moving things around. Sometimes I'll also toy with an idea or two and won't include it on my list until I've finally decided. Defining my needs is the first step on how to decorate a room. My next step would be to give my listed items some home decorating help in terms of style.


---

Return from How to Decorate a Room to Home Decorating Ideas

Return from How to Decorate a Room to Interior Decorating Together