Adopt Zen Decor for Peace and Tranquility


To be at peace and to be whole is zen. With zen decor, you aim to bring that sense of peace and balance into your home. It feels so refreshing to walk into a calming and tranquil space . . . you can sense yourself unwinding and relaxing and your stresses easing.


Do you want to create a peaceful-feeling room that is easy on the eye? If so, I suggest minimising clutter and aiming for an open and balanced feel that is not too fussy or full of detail. Use each piece of furniture or accessory deliberately, and if something doesn't fit - or you don't have a place for it - then don't use it.


An important aspect of creating this atmosphere is to choose the correct colours. The correct colours are those that make you feel relaxed just by looking at or imagining them. Just as a song can make you feel mellow and dreamy, so colour can make you feel tranquil. I choose zen colours by closing my eyes and imagining different shades - then I pick all those that make me feel at ease and calm. I also make a note of colours I notice have a placatory effect on me when I'm paging through an interior decorating magazine and see a certain colour in a featured home. My personal soothing colours are off-white, grey, taupe, cream, beige, turquoise, and light yellow (in small doses).


Although traditionally zen decorating draws on Japanese influences with low-slung contemporary furniture and bamboo screens, I think you needn't follow this look slavishly just to create a pleasant interior. If you like the minimalist look of traditional eastern décor, then use it; but personally I find that although those interiors look complete and uncluttered, they don't convince me that they would be comfortable. My choice for this mood would be upholstered furniture, but I would steer clear of very hard lines as I want that cushy and cocooned feeling. I long for an inviting sofa that drowns me in its supple depths and lets me disappear into my daydreams. I'd stay away from dark woods and other dark contemporary furniture.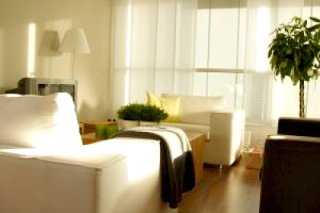 My accessories would be soft, soft, soft and pastel-like (I'm thinking baby clothing colours) - mounds of oversize cushions and throws, pale lampshades and candles. A fluffy long-pile rug, or wooden floors with their warm honey glow are my top choices for flooring. For window treatments to reflect the serene feeling curtaining, or otherwise white shutters, work well because they are like great expanses of restful colour. Also the more natural light in the room, the more inviting it will seem. To round it all off, a jug of pretty flowers will add cheer to the scheme.


This is what encompasses a calm space for me. Remember to adapt your space to reflect what feels peaceful for you. Be yourself here, this is what you want to come home to every day.


Ahh, now take a deep breath ….


---

Return from Zen Decor to Interior Design Ideas

Return from Zen Decor to Interior Decorating Together