Tuscan Decor Features For You To Adapt In Your Own Home
Do you love the relaxed feel of Tuscan decor?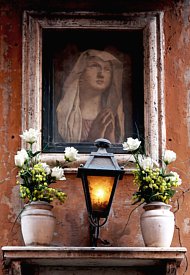 This beautiful Italian style is inspired by nature and the colours of the countryside. There is a certain old-world charm inherent in the Tuscan style of decorating.
So how much is too much? That is up to you. Your collection of decorating pictures is there to guide you. If this rustic decor trend is clearly identified in the majority of your pictures then you know that you should pay more attention to the elements that make up the feel and atmosphere of an Italian country home. On the other hand, if you are only looking for a hint of Tuscan style to combine with another style, you have more freedom to select the "best" of Tuscany.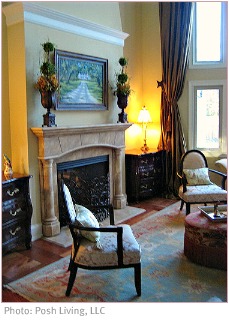 Features you may want to include in a Tuscan style home:

Floors: Wood or stone. The focus is on natural materials

Walls: Stone, rough plaster. This creates that rustic feel

Furniture: Well-worn wooden or antique furniture. Picture a family gathering around that vintage wooden table

Furnishings: Natural fabrics - think cotton, linen and wool

Colours: Mostly warm earthy colours, such as cream, yellow, terracotta, ochre, green, blue

Accessories: Wooden shutters, copper pots, colourful tiles, terracotta pots, wrought iron


So just how does one go about transforming the room they have into a Tuscan retreat? Well, here is how I would go about it. Let's have a look at the rendered dining room I created to give you an idea of how to go about redecorating.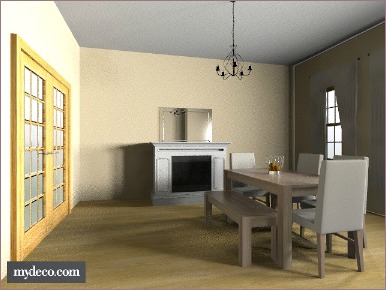 The first step for me was the colour. I decided that the walls needed to be a darker more earthy tone. If you like, you could also do a paint effect to resemble rough plaster. I added a rug as well as curtains in autumn shades. The mirror was swapped out for a gold framed one to tie in with the shades I used in the room. A wooden sideboard and accessories were also added.
Here is the finished and enhanced dining room in Tuscan style.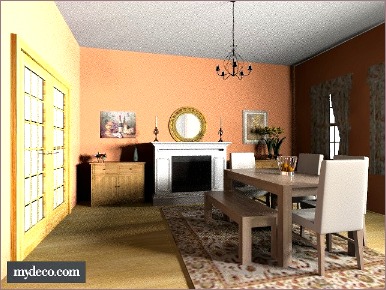 Using the elements of Tuscan decor lets you focus on creating a comfortable, homely and well-worn room. If you're still undecided as to whether this is the right rustic style for you, you might want to check if the French or Country

styles are a better fit.
---
Return from Tuscan Decor to Interior Design Styles

Return from Tuscan Decor to Interior Decorating Together