Romantic Cottage Decorating Has Feminine Appeal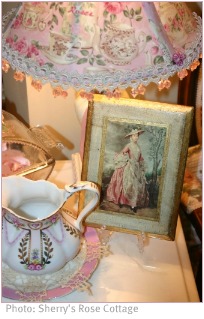 Another informal style to speak of is cottage decorating. Like the country styles of decorating, it is relaxed and graceful. Cottage style decorating is based primarily on the English cottage, and tends to be more feminine and pretty - as are the gorgeous gardens teeming with roses. These gardens are an important part of cottage life, and you will often see that the outdoors are indoors, with plenty of floral fabrics and colours that remind you of flowers. Above all, it is a comfortable homely style that is simple and elegant. If you love a vintage cottage feel, then shabby chic decorating will appeal to you. Instead of more modern decorating, you can reflect on the past with distressed or aged furniture and fabrics.



Cottage style and shabby chic decor elements would be:

Floors: Wooden floors or soft pale carpets. Laminated floors also work well for a more sophisticated look

Walls: A rustic cottage may have stone, wood or brick walls - since a lot of these homes are converted buildings. Alternatively, you can have smooth painted walls

Furniture: Simple furniture in a vintage style, antique or distressed furniture is desirable in shabby chic decorating. Painted wooden furniture and upholstered furniture will also set the right tone

Colours: Mostly pale and soft colours, whites and creams, soft pinks, blues and yellows - anything that is feminine and romantic

Accessories: floral fabrics, soft stripes, vintage cottons and linens, chandeliers, flowers

The key is to create a comfortable space that is as calm and peaceful as possible, let yourself be girlish, choose anything pretty, pastel and lovely.


I'd like to show you what I would do if I should need to redecorate a room in this style.
Let's start with that standard living room - functional, if not exactly decorative.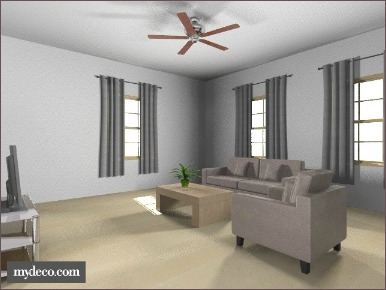 And as an "after" here is the same rendered room redecorated to reflect the cottage decorating charm.
The first thing was to decide on my colour scheme. I chose pale pink and blues. I coordinated the pale pink walls with a simple floral wallpaper to create a feature wall. The TV stand and existing coffee table were updated with more curvy and feminine furniture in white. I enhanced the soft floral look with cushions and a rug. I find that this look really comes together when the room is filled with cottage style furniture, so I added a light blue armoire, a white console table and curvy coordinating white end tables. I also felt the room would benefit from two wicker chairs. The existing curtains were swapped for voile for a lighter look. I accessorised with floral pieces, flowers, mirrors and lamps. The room is now soft and pretty.
---

Return from Cottage Decorating to Interior Design Styles

Return from Cottage Decorating to Interior Decorating Together