Figure out your furniture placement and room layout


Planning your furniture placement and the layout of your room is the next step once you have defined the purpose of the room, and decided how to camouflage any features you don't like.
Furniture arranging guidelines
One thing to remember when you plan the layout of your room is to consider the flow of traffic in the room. This is especially important if your room has more than one entry point, or an exterior door.

Ok, now for the furniture placement. The easiest thing is to arrange the biggest functional piece first (left picture, above). In a bedroom, that would be the bed. In the living room, that might be a large three-seater. In the dining area, that would be the dining table. If your space is open plan and your room will serve two functions - such as watching TV and dining at a formal table - you would place the two largest pieces first. In some cases you would have to place electrical equipment in a certain place to avoid running cables.
The next step in your furniture placement scheme is to arrange the medium necessary pieces around the largest piece (middle picture, above). Here is where you can play around a bit, because often the largest item of furniture will only fit in one place. If you are arranging something that needs an electrical outlet make sure it will reach. These medium pieces could be armchairs, TV units, coffee tables, dining chairs, bedside tables etc.
Now all that's left are the small pieces to fill in the gaps and make the whole scheme come together. These are things like side tables, rugs and accessories (right picture, above).
Don't overlook the height of the furniture. Make sure there is enough visual interest between the tops of the furniture and the ceiling. This space can be livened up with artwork, or a floor lamp.
There are design guidelines that state how far apart your sofa and coffee table should be; how high a side table should be, and so on. Don't worry too much about matching up to those numbers, the key is to have a space that you can live in comfortably and that works for you. Your furniture spacing might be different to the standard measurements if you have a disabled family member living with you.
My take on often-heard furniture arranging tips
• Pull furniture away from the walls: If your room is large, then experiment with this. It can go a long way to giving you that magazine interior. If your room is small this may not be an option for you as furniture away from walls = no space to walk + a weird gap to explain.
• Foreground, mid-ground, background: This decorating tip gives you that layered look you always see in magazine designs. You also need space for this, but it can look very modern. If you don't have enough room use art on the wall as the background.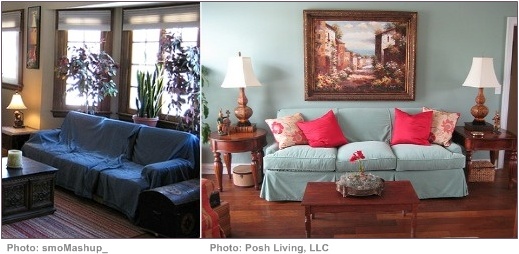 In the pictures the foreground consists of the coffee table and the sofa makes up the mid-ground. In the first picture the plants form a background (you could also use a console table with a lamp). In the second picture there is an artwork to provide a background.
• Hang your curtains as high as possible: This can look professional, but only if your ceilings are an average height. The flip-side of the high curtain issue is to make sure that the rest of your furniture appears balanced.
• Use large coffee tables: You can do this if it ties in with your room's look. Be careful though, because a large coffee table can dominate a room and become a focal point - fine if you want it to be a focal point; not great if you don't.
---
Before you put your back out (or your husband's back), you could plan your layout on paper or with an online floor plan design tool. This does require some extra work because you will have to measure up your room and furniture dimensions so that you can accurately represent them.
Furniture placement on paper:
• Choose graph paper so that you can work to a scale. Make sure your scale is big enough to work with easily. Draw in your walls, doors and windows. Note switches, water and electrical outlets.
• Use a separate piece of paper to draw your furniture on. Use the same scale you used on your graph paper. Now you can cut out your furniture and place it on the graph paper until you are happy with the result. (Use a firm paper or light card here so that your paper furniture won't curl up when you cut it).
• Take into account how much space is necessary to move around - does that equal one block? Two? This will ensure that your pieces aren't too close together or too far apart.
Furniture placement with software:
If you prefer to plan your layout on the computer, then I recommend Floorplanner for this. The reason being, that you can resize the furniture to match the dimensions of your own, instead of relying on fixed sizes that other design software provides.
Once you've arranged your furniture you'll be able to spot what's missing in your decor scheme. Do you need a lamp? A rug? An oversize vase? Make a list of what is left out for when you go shopping.
Your furniture placement is all worked out; are you ready to slap some paint on the walls? Take a look at different styles or moods

to create a harmonious feel to your decor before you lift that brush.
---

Return from Furniture Placement to Room Design

Return from Furniture Placement to Interior Decorating Together